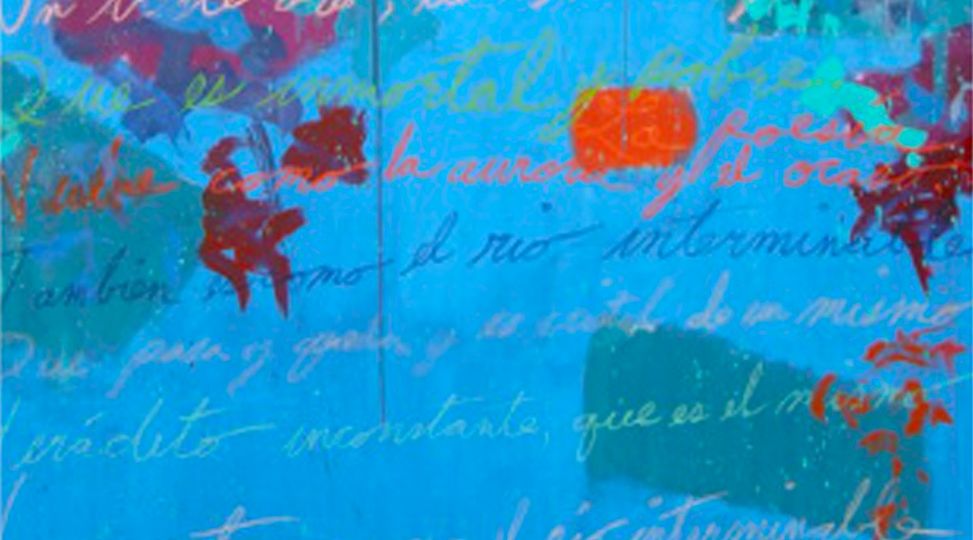 Freud & Jung – Written Revelations
Personality Attributes in Freud's Handwriting'
, December 1, 2011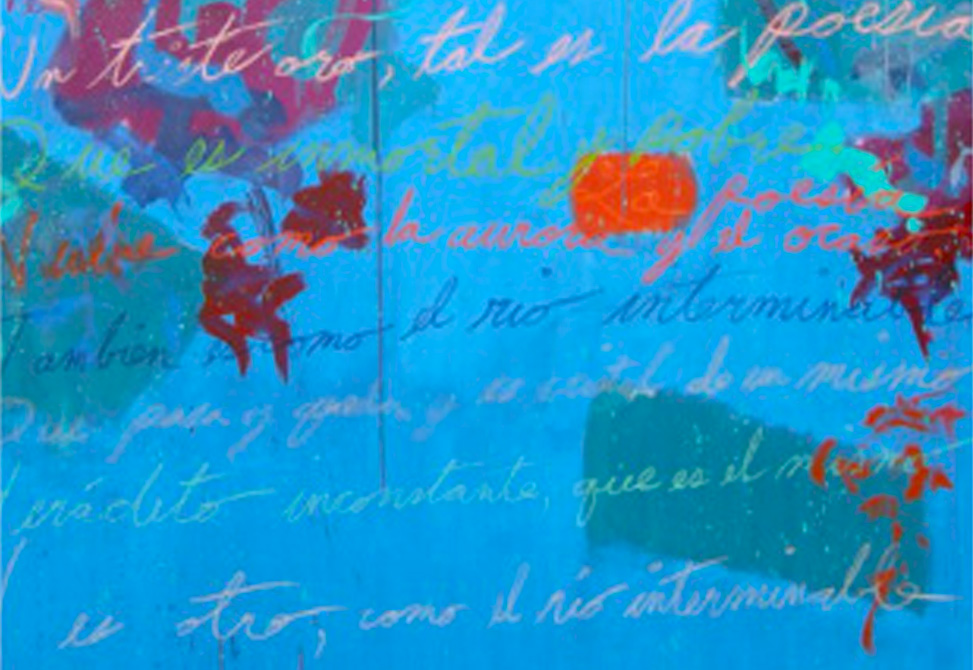 The contrasts between the handwriting of Sigmund Freud and that of Carl Jung show that they had very different temperaments and give credence to speculation that the difference in their personalities was an important factor in the final dissolution of their friendship. Notice Freud's compact, heavily pressured writing with numerous restrictions. These qualities show temperamental volatility, emotional torment, and impulsive outbursts. Contrast that with the much more controlled writing of Jung, seen in the small size and more proportionate lengths of the upper and lower extending strokes.

Passion (pressure, slant, sweeping extension) and aggression (angles, narrowness) are the outstanding qualities seen in Freud's script. The extensiveness of the writing, intensity of pressure, and the above average speed of writing are the expressions of an exuberant vitality and energy. Ania Teillard compares this type of writing to a volcanic eruption (Schweighofer, 1979, p. 27).
It should be noted that Freud used the then-current style of gothic script, which was distinguished by sharp angular connective forms rather than the round form of the Latin script that Jung employed. Long, downward extensions are also more frequent in the gothic script. While Freud may have been culturally conditioned toward this somewhat cumbersome gothic style, it may also have appealed to his character more than the more balanced, easy-going Latin script. The gothic model taught that the zonal extensions should be about two times the height of the middle zone, to create an approximate zonal proportion in all three zones of 2: 1: 2. Today's model proportions are approximately 1 ½ : 1: 1 ½ . In graphological terms, this suggests that the tensions between the unconscious (lower zone) and the intellectual (upper zone) were greater during Freud's time than today. And, because the middle zone correlates with the ego and the present, a proportionately smaller middle zone among Freud's contemporaries suggests that they were less concerned with day-to-day reality than we are today.

Numerous, almost always extreme, graphic indicators predominate in Freud's handwriting. The most notable is the vertical extension (the height between the top and the bottom of letters) of the script. The letter 'f' is the only letter that occupies all three zones of writing, making this a good letter to look at when evaluating zones and vertical extension.
Freud's writing has an emphatic lower zone (id) indicating a strong dependency of his psychic processes on bodily states and processes. The shorter upper extension suggests only a slightly developed tendency toward sublimation, the ability to transform unacceptable impulses into something positive.
It should be noted that handwriting changes over a lifetime. Freud's writing over time had some changes, to be sure. The height of his upper zone varied during the course of his life, according to these handwriting samples. The tendency to sublimate was at its lowest during the middle years of his life as seen in his sample at 56 years old where the upper extensions are very short.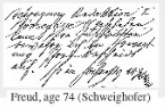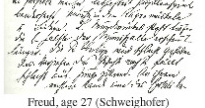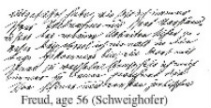 The inclination toward large, wide-ranging movements is triggered by activity of the brain stem. Extensiveness, therefore, is a primary indicator of a brain stem script. The long lower extensions of Freud's handwriting indicate a person motivated by the physical — instincts, drives, affects, and feelings — the sphere of experience and behavior that is governed by this most primitive area of the brain. Yet Freud's writing is also very narrow, especially for the size of his letters, and his slant is extremely right-leaning. These two attributes represent strong opposing forces within him: There are clear indications of self-restraint and repression (narrow, with some retracing) yet there is a passionate emotionality (variability in letter size plus strong pressure and right slant).

Qualities present in all three samples show a high degree of tension (narrowness, angles), which, combined with heavy pressure, irregularity (size, spacing), and lack of rhythm, indicate a moody, temperamental individual. The way Freud forms his letter 'f,' with a reversed lower loop, has a variety of meanings interpretations including greed, originality, insight, and vanity. Some of these "f's" have loops that are almost retraced.
Meanings associated with this are extreme repression, frustration, resentment, and hostility. In evaluating something like this, one would ascertain how often this is found in this letter and then would apply that to the meaning: If it is found in about half of the 'f's,' then about half of the time the person would experience the psychological qualities associated with it.
Indicators of Freud's Typology
A number of imbalances and inconsistencies are present in his writing—variation in zonal extension, spacing, and size—indicating that he was defended and fearful. There are also contradictions, such as very narrow letters and narrow line spacing, representing restraint, which work against the relative size of his middle zone height, suggesting large ego needs. These contradictions suggest radical conflict between willpower and feeling, between a desire to contain himself and a desire to let himself go, and make typing difficult.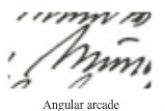 In his writing, the 'guiding image,' or what is the most striking aspect, is the narrow vertical extensiveness. The dominance of the lower zone with some other graphic indicators would score high in Sensing. The larger than average middle zone height, along with right slant, would score high in Feeling. But here again, there is much ambivalence present. Typically, a right slant (emotional expressiveness) and larger middle zone height (large ego needs) is accompanied by wide letters also, indicating a socially extraverted personality, yet Freud's pinched, narrow letters indicate social unease. According to numerous graphic indicators, he was not socially comfortable, hence the 'holding in' that one sees in narrow letter formations. This social inhibition suggests pronounced Introversion.
Freud's letter connections show the 'angular arcade.' This type of connection suggests a personality with enormous strength of purpose and high conscious control of all psychic processes. This formation also suggests Introversion.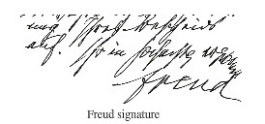 Also of interest is his use of a lower case 'f' in his signature in the sample at age 76. Using a lower case letter in one's name instead of the usual upper case is a marker for an inferiority complex. The lower case 'f' is especially interesting given the very large size of the signature—one more example of conflicting impulses. Our signature is the public face we show to the world, our 'psychological calling card,' and congruency between signature and body of writing is one indicator of an integrated personality. When the signature is larger than the writing, it signifies that the person is trying to appear more confident than he or she really is. The lower case, less confident 'f' together with the large signature demonstrates Freud's internal ambiguity.
With regards to the J/P scale, there are graphic indicators present for both. Individuals who have great irregularities in the writing aspects of size, baseline of writing, and margins would likely report as 'P' on the Myers-Briggs J/P dichotomy. While Freud has irregular size, he does maintain a somewhat straight left margin and somewhat level baseline. These factors are neither too rigid (J) nor too irregular (P) but one couldlean toward the latter.
In sum, Freud's handwriting reveals clear evidence of Introversion and Sensing, with some Feeling attributes and a slight indication of the irregularity that points toward 'P,' but it also shows considerable internal conflict.
Personality Attributes in Jung's Handwriting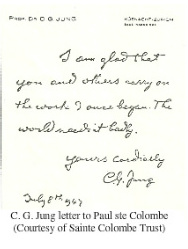 Where Freud's writing is full of ambiguities on almost every level, Jung's is much more in harmony. Thus they prove challenging to analyze for opposite reasons: Freud's writing is very complex and contradictory; Jung's very simplified and balanced.
The greatest difference between the two is the spatial arrangement and zonal balance in Jung's handwriting—it has more space between letters, words and lines. Jung's script shows the same rapidity seen in Freud's, indicative of rapid mental processing. However, Jung's is much more relaxed. You get a sense that you can 'breathe' when looking at Jung's writing. The rigidity of Freud's handwriting, on the other hand, suggests rigidity in both thinking and in emotional response.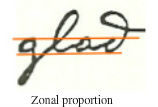 Jung's writing exhibits much more proportion between the zones of writing (id, ego, superego) indicating a more integrated personality than Freud. This isn't to say that balance necessarily equals perfection, but such individuals have greater levels of adaptation to life, more choices in how they respond. Rather than simply reacting, they are able to find their 'center' more quickly after facing stresses. These zonal balances suggest that the way Jung felt and thought was not as somatogenically determined as was the case with Freud. Jung's inclination was to work out intellectually the impulses originating in the somatic level. Freud's thinking remained in the grip of the physical; whereas Jung's high upward (upper zone) extensions show that he succeeded in freeing himself from bodily conditioning.
Indicators of Jung's Typology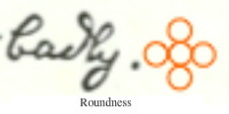 The more one individuates or is more 'type developed,' the more the writing loses its extremes, which makes typing difficult. The polarities of the psyche have been depotentiated. Jung's writing reflects that inner balance, even showing evidence of a mandala-like quality. As we become more whole, more 'rounded,' so does our writing.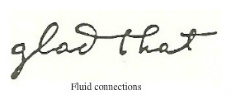 The clear spacing and small absolute size of Jung's writing indicates Thinking. The upper zone dynamics and the extraordinary connectedness of Jung's letters and words suggests intuition. The fluid connections, as seen in the two connected words as well as in the th ligature, indicate a person with great verbal facility, even poetic inclinations, as well as fluidity of thought. Connections of letters indicate how we relate our thoughts and how we relate to others. Where Freud's script has only angular-arcade connectives, Jung's has all three forms of connection present—angular, arcade, and garland—indicating that he possessed a broader range of thoughts, responses, and relational styles.

The small size of the middle zone equates with introversion, but the wide horizontal expansion correlates with extraversion as well as generosity. This type of writing indicates someone who is private and needs solitude, yet who is capable of functioning in a more extraverted manner when needed. That he was guided by logic is seen in the organization, small size, and modest extensiveness. This suggests a highly organized individual who showed meticulous attention to detail. The middle zone letters are of even size, the diacritics are carefully placed, and the stop (period) after his signature is perfectly round: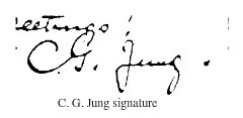 There is also congruence between signature and text meaning that how Jung presented himself, is how he really was. Jung seems confident yet self-assured, as suggested by the small, well-modulated letters, clear but not ostentatious signature, and well-proportioned capitals. The high degree of letter connectedness indicates excellent associative powers within his thinking, suggestive of intuition.
Overall Jung's handwriting shows Thinking and Intuition, with Introversion primary. Many of Jung's upward extensions have full loops, which indicate an active imagination, and one whose thinking is characterized by pictures and symbols. His consistent size, level baseline, and straight left marginsuggest that he would likely report as 'J' on the Myers-Briggs J/P dichotomy. Over all, handwriting indicators suggest INTJ preferences.
In sum, Freud's script suggests a person who is all-consuming (notice how his writing overtakes the page due to overlapping spacing), volatile, and narrow-minded. His dominating will was the driving force in him and there was much duality. Jung's script suggests clear-headedness (objectivity) and independent thought (notice the size, organization, spacing and clarity), and indicates a person with ambition, confidence, and the desire to communicate clearly.

---
References
Nezos, R. (1986).Graphology: The interpretation of handwriting, Volume 1. London, England: Scriptor Books.
Roman, K. (1952).Handwriting: A key to personality. New York, NY: Pantheon.
Saudek, R. (1978). The psychology of handwriting. Sacramento, CA: Books for Professionals. (Original work published in London 1926)
Schuetz, L. (2011, May). Partnering type with graphology. Personality Type in Depth. Retrieved fromhttps://typeindepth.org.
Schweighofer, F. (1979). Graphology and psychoanalysis: The handwriting of Sigmund Freud and his circle. [S. Ray, Trans]. New York, NY: Springer.
Storr, A., Stevens, A. (1998). Freud & Jung: A dual introduction. New York: Barnes and Noble.
Sonnemann, U., & Mittelmann B. (1950). Handwriting analysis as a psychodiagnostic tool: A study in general and clinical graphology. New York, NY: Grune & Stratton.
Teillard, A. (n.d.). Attempted analysis of Sigmund Freud's handwriting. Translated from the French by Edward B. O'Neill.
Wolff, W. (1948).Diagrams of the unconscious: Handwriting and personality in measurement, experiment and analysis. New York, NY: Grune and Stratton.
Wolff, W. (1943).The expression of personality: Experimental depth psychology. New York, NY: Harper Brothers.
Header Image
James Walton Fox, "Masonville (Ars Poetica)," 2009, Courtesy TRIA gallery, New York
---