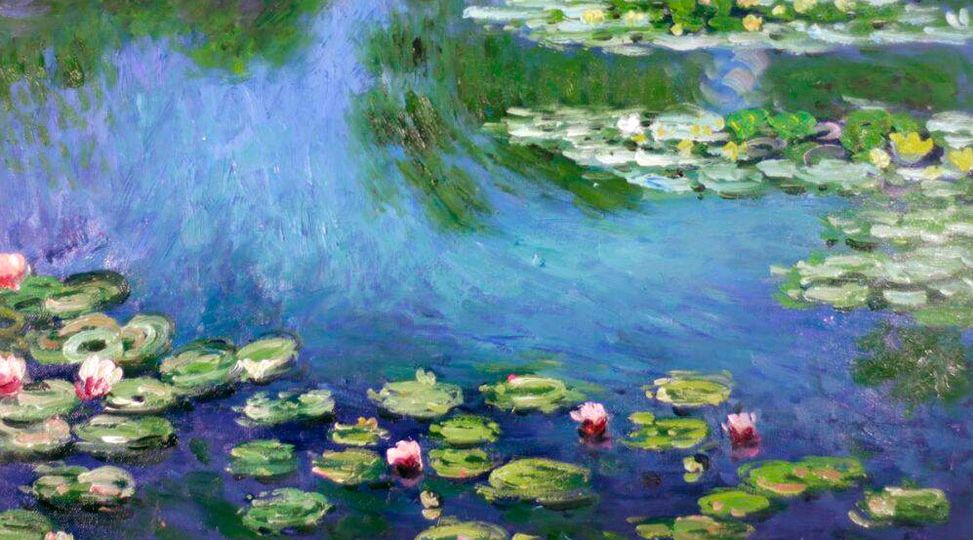 Unconscious Guardians
Archetypes in Service to the Self
Cheryl L. Simon, April 10, 2013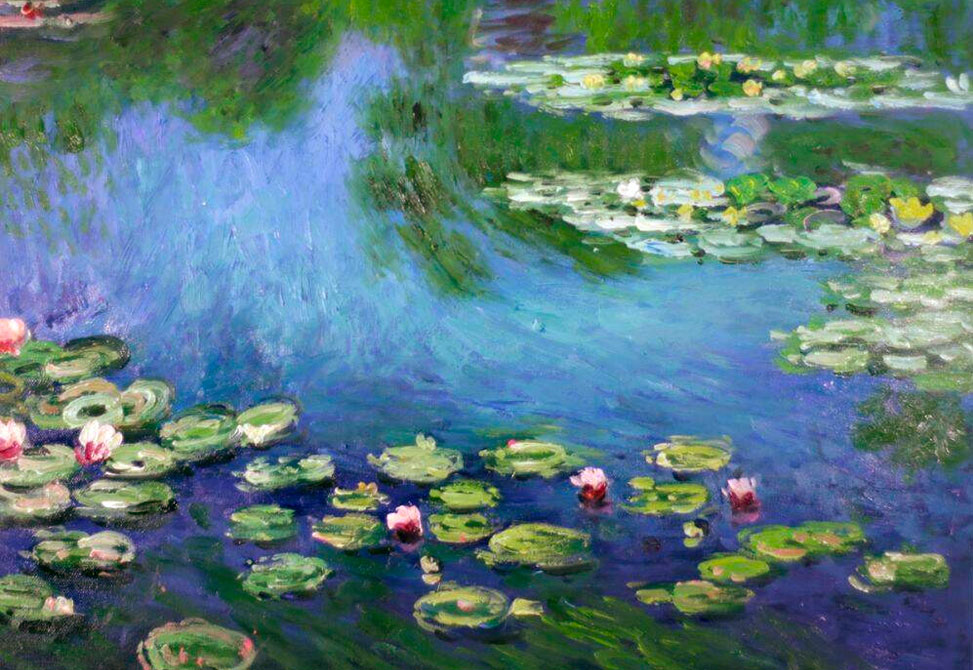 During a discussion of the Puer archetype at a workshop in May of 2012, John Beebe shared a Jewish story originally cited by James Hillman in his essay, "Betrayal." It was about a man who invited his son to jump to him from successively higher stair steps. At each step, the man said, "Jump, and I'll catch you," and each time he caught him. Finally, his son got to the highest step, and when the little boy jumped one last time, the father stepped aside and allowed him to fall. As the young boy got up crying, the father said to him, "That will teach you: Never trust a Jew, even it it's your own father" (1986, pp. 63-81). Hillman used this story to demonstrate the role of betrayal in psychological development. Beebe noted that this is the universal story of the Puer's betrayal by the Parent. This betrayal naturally leads to cynicism (male) and meanness (female), and potentially to self-betrayal if the individual does not do the inner work necessary to move past the resentment of the betrayal. When this 'stuckness' occurs, Beebe indicated that the Puer's energy is at risk for converting to that of the Witch/Senex. When that happens, there is a loss of innocence, trust, and spirituality. Beebe explained that, with the aid of the Trickster archetype, we can integrate the Shadow into our childlike innocence so that we may move past the betrayal and into a more fully functioning interaction with life.
For some unknown reason, this story haunted me throughout the weekend. I gradually began to understand it as foundational to my current personal understanding of type theory. I had become increasingly aware over the past several conferences that using type theory was helping me feel more grounded and safe, both with others and within myself. Growing more conscious of the different archetypal energies associated with individual type had given me a deeper understanding about how we all share these energies, albeit in diverse iterations. I had been increasingly able to allow myself and others the freedom to be unique in personality differences without the need to find fault when conflicts would arise. This understanding had gone a long way in helping me grow stronger in taking my own stand in life. I completely trusted this theory to 'catch me' and give me a road map to keep me safe.
That was all well and good until I stepped out of the car upon coming home from the Beebe workshop in Louisville. I had been thinking about the "Betrayal" story on and off during the eight-hour car trip home. My four-year-old grandson, Noah, came running out of my backyard when he heard the car door slam. He was all wet from swimming in our pool. He hugged me and exclaimed, "Mimi, I can jump from the top step!" (Noah had been practicing jumping from the steps into the waiting arms of adults in the pool all summer.) This synchronicity really got my attention, so I asked him purposefully, "Who is catching you when you jump?" He answered, "No one, Mimi. Just the water!"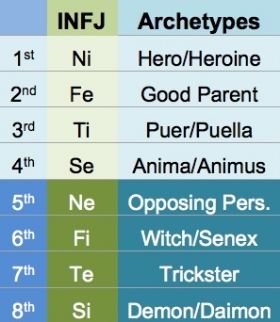 I understood in that Zen-like moment that there were clearly synchronistic energies at work. I also realized as I pondered this over time that I needed to go back and rework the defensive position I had fashioned for myself over the course of my life as a way to protect my inner, vulnerable child. An INFJ, I grew up with a father who never seemed to understand my introversion and often made fun of my sensitivity and emotional responses to situations. My father would become angry when I would cry at his criticisms or apparent lack of affection. Over time, I developed a defensive structure that allowed me to protect myself from the pain of criticism. Rather than incorporating my own anger and aggression (shadow) over the betrayal of my father and using it in a healthy manner to protect myself in the world, I resorted to living through my second function extraverted feeling (Fe). It was much less threatening to be agreeable with everyone and never allow a conflict to develop than to take my own stand and risk criticism. But my grandson taught me a powerful lesson that day which helped put me in touch at a deeper level with my own inner resources. I realized that, as symbolized by the water, there are life energies or archetypes that serve the universal purpose of potentially keeping us alive and on our path in service to the Self. These energies reside both within and without, and they are generally unconscious until we work to bring them to consciousness. Just as the water did for my grandson, we have unconscious guardians (archetypal energies) that enable our growth and develop our strength to live another day. This is true even when we fall! I believe Beebe's theory is defining some piece of this universal pattern and gift.
Since the day of this epiphany, I have been striving to become ever more aware of these archetypal resources and working to stay in the center of myself (introverted intuition, Ni) without apology or self-recrimination. In doing this, I have opened myself up to conflict with those who do not get what they want from me. I have also been working on using my Trickster extraverted thinking (Te) more often to protect my vulnerable Child when it falls and to take my stand in the world.
One example of this process occurred about two months ago. I received a phone call from an ex-psychotherapy client I knew to be extremely character-disordered, angry, and critical. Although she claimed she wanted to re-enter therapy after 10 years, I had information that she was being required to do so by Social Security Disability to continue to receive her benefits. She had a long history of manipulating the system, but I had always been hesitant to confront her directly regarding her behavior as she would become dramatically emotional, angry, and threaten suicide when these issues were addressed. With these behaviors, she placed me in a double-bind as I felt ethically and legally responsible to ensure her safety. At that time in my life, my 'go-to' function in these situations was Fe (Parent). I was not consciously aware that I could employ other functions, i.e., Trickster, to place her in a therapeutic double-bind as I had not yet been exposed to this theory of typology.
Needless to say, I felt my inner Child retreat in anxiety when I received this ex-client's call. I realized that I was not centered and that it was going to take some time to gather my resources before I could respond appropriately to her. But before I called her back, and only an hour later, I found her in my waiting room without an appointment. She insisted on being seen that day and seemed determined to find a way to make that happen. My Child was falling! Here was this critical woman who was going to try to use me for her own purposes again. I thought nothing had changed! But early in my interaction with her I realized that indeed something had changed. I had access to other archetypal energies that enabled me to set boundaries with this woman and send her on her way. I presented her with the facts of our last encounter ten years ago, when she had been extremely aggressive and manipulative. I then told her I did not wish to engage her as a patient now or in the future. Somehow, I was able to communicate this in a matter-of-fact, concise manner that allowed for no argument. I got up, escorted her out of the door and, best of all, when she dared to ask for a hug I politely declined, walked back in my office and shut the door. My beautiful extraverted thinking Trickster caught my Eternal Child. Suddenly, a very rational, focused, and direct communication style was available to me (Te Trickster) that had never been available to me in past conflicted interactions. My ex-client was very quickly placed in a double-bind and had no choice but to leave without getting what she wanted. In the past, my Parent function (Fe) would have rushed in to protect the Child, leading me to be overly accommodating, warm, and empathic. So, I would escape the conflict but reinforce the manipulator due to my lack of boundaries. On this occasion, however, my Trickster successfully harnessed the anger and resentment left over from my own betrayal as a child and used it to protect me. I had not allowed myself to incorporate this anger and channel it productively until my Trickster did it for me! I feel incredible gratitude towards these unconscious (but maybe growing more conscious) guardians.
So, was it simply a coincidence that my grandson ran out with his message of jumping from the top step and being caught by the water right after I had been deeply considering Hillman's story of the boy jumping from the top step to his father? Jung's theory of archetypes would suggest not. Jung indicated in his book, Synchronicity: An Acausal Connecting Principal, that "the archetype is the introspectively recognizable form of a priori psychic orderedness." This is the idea that we have pre-conceived forms of energy within us that, each in their own unique way, pave the path for our lives. I believe that I was being helped along in my understanding by archetypal energies that were present within me, within my grandson, and certainly in that interaction between us. In our communications with one another, if we are listening, we have the opportunity to grow into our potentiated selves.
Finally, in the face of the beautiful words delivered by my grandson, I am reminded of a quote by Teilhard de Chardin (1965, pp. 50-73). Surely such a powerful message is universal and has meaning for the world:
Every person, in the course of his life, must build—starting with the natural territory of his own self—a work, an opus, into which something enters from all the elements of the earth. He makes his own soul throughout all his earthly days; and at the same time he collaborates in another work, in another opus, which infinitely transcends, while at the same time narrowly determines, the perspectives of his individual achievement: the completion of the world.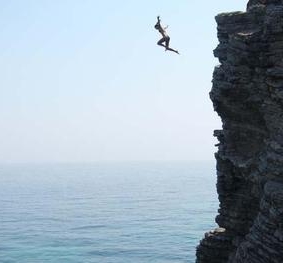 This is our task: To know ourselves intimately so that we may better determine what contribution the Self asks of us. Our unconscious guardians are constantly present, interceding on our behalf. The ways in which they push us along our path are not always clear to us, however. I have experienced these energies working in both positive and negative ways in my life. I believe that they can give us insight, provide us with a process to accomplish a task in a different manner, or even lead us to a fall when necessary. In fact, I believe that the pain and suffering that comes from falling is an imperative and instructive part of the human journey. So, in a strange way perhaps we can be thankful for our scrapes and bruises, albeit generally after we get back on our feet. These archetypes that reside within each of us form a network that connects us to All. They serve the purpose of guiding us on the path of authentic fulfillment of our prescribed destiny. This I trust and know as truth, even when I am allowed to fall.
---
References
Beebe, J. (May 18-19, 2012). "The battle continues: Winning the war within," Type Resources workshop, Louisville, KY.
de Chardin, P. T. (1965). "The divinization of human activities," The divine milieu: An essay on the interior life. New York, NY: Harper and Row.
Hillman, J. (1986). "Betrayal," Loose ends: Primary papers in archetypal psychology (4th ed.). New York, NY: Spring Publications.
Jung, C. G. (1973). Synchronicity: An acausal connecting principle. CW 8, Princeton, NJ: Princeton University Press.
Header Image
Claude Monet, "Water Lilies" (1919). Courtesy, Musée Marmottan, Paris.
---